This is a high flow, manual shutoff valve for applicator and nurse tanks. It is designed for use as a filler, liquid or vapor withdrawal valve. The rugged ductile iron body is an assurance of durability and a long service life. The built-in excess flow check assembly provides maximum safety in the event o fan accidental hose break.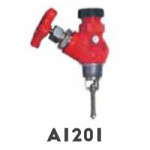 Features:
Stainless Steel Stem – precision ground and polished
"Teflon" Stem Packing – positive seal with pressures in excess of 500 psi
Optional Double Coated, Zinc Plated & Painted for Extra Protection
Excess flow check assembly of all valves individually inspected and checked after assembly to assure accurate and dependable operation.
NOTE: Liquid fill rates obtained with complete hose assemblies so as to duplicate actual operating conditions. The hose assembly includes: Loading riser angle valve, hose-end valve, and 1″ X 12 ft of hose with necessary couplings all A1201 series valves us repair kit A2212-RK.