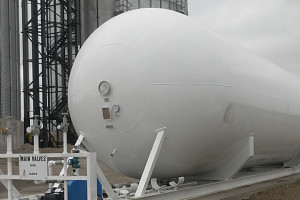 Propane storage requiring a short-term or permanent solution?

Are you on a temporary job site with fuel storage needs?

LPG Ventures can help with your portable storage needs with custom skid-tanks and portable tanks (Porta-Paks).
Our turnkey skid tanks include the bulkhead for both transport/bobtail operations, liquid pump w/ motor, and everything you may require in a single package.
Our Porta-Pacs Systems are a portable storage unit that incorporates dual axle tire system and a king pin system that enables to hook up to any standard heavy duty tractor. These Porta-Pacs include a single or dual style bulkhead for both transport/bobtail operations. Bulkheads have tripod breakaway systems incorporated into them to properly shut-off the flow of product in the event of a pull-away.
Contact us today for more information and to learn how one of our Portable Systems can help with your temporary storage needs.