Features and Benefits
Controlling Cavitation is Critical to the Longevity of the Pump
Thrust Bearing Design Rated for 4,000 lbs
Why Z-Series Pumps Require Less Service
Switching to a Z-Series is Easier Than You Think
Easy to Use Internal Relief Valve
Backed by a Strong Warranty and Distributor Network

Sliding Vane Pumps for Mobile Applications
LPG, NH3, and Other Light Liquids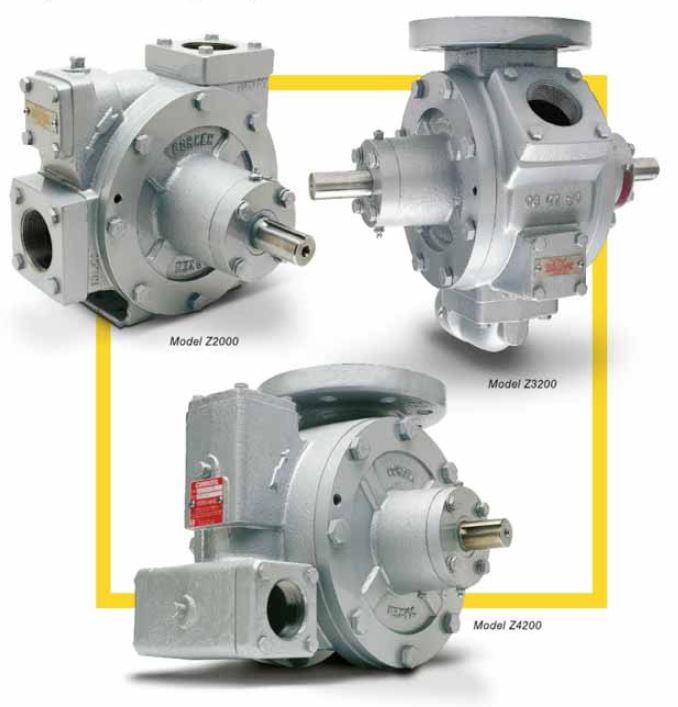 The sliding vane Z-Series is a new generational Coro-Vane pumps with several new design improvements. This makes the Z-Series a smart choice for anyone wanting improved performance and a longer service life.
Controlling Cavitation is Critical to the Longevity of the Pump
Excessive cavitation will reduce the pumping efficiency and shorten the life  of the pump. Our state-of-the-art cam design has a high flow inlet and a direct flow outlet that minimizes cavitation — even while pumping at low tank levels. The absence of cavitiation enables the cam and sideplates to remain lubricated throughout the pumping process. The new cam design also incorporates a longer lasting cam material. both of these features eliminates premature war on the cam and sideplates.
Thrust Bearing Design Rated for 4,000 lbs
The thrust absorbing system for the Z-Series truck pumps is comprised of two needle-roller-thrust bearings on each shaft extension. Each shaft is rated for 4,000 lbs of thrust. this patented design protects the pump from both dynamic and impact loads often imposed on the pump by the power-take-off (PTO) drive system so premature failures due to axial thrust loads are minimized.
Why Z-Series Pumps Require Less Service
In addition to a newly designed cam that minimizes caviation, our vane driver design minimizes impact. Unlike other sliding vane pumps with steel vane drivers that eventually penetrate the vanes, the Z-Series has a non-penetrating vane design. Our light weight, non-metallic, large diameter vane drivers minimize impact to the vanes so both the vane and vane driver last longer.
And, our precision-machined sideplates are reversible so you get twice the service life.
Switching to a Z-Series is Easier Than You Think
The Z-Series truck pumps are interchangeable with competitive pumps so you can bolt right up to the existing installation without changing the inlet and outlet piping. they can be adapted to a right or left-hand power-take-off (PTO) system. Our reliable, easy to replace mechanical seal is compatible with propane, butane and ammonia, so there's no need for a seal change.
Easy to Use Internal Relief Valve
Another innovation of the Z-Series truck pumps is the preset, no-adjust internal relief valve. Since it is preset at the factory, it ends the guess work and repeated field adjustments and allows you to begin pumping immediately after installation.
Backed by a Strong Warranty and Distributor Network
Z-Series pumps are designed to perform under the abusive pumping conditions typical of truck pump applications. We are confident in the performance and longevity of these pumps and offer one of the strongest warranties in the industry. Ask your distributor for details.
And, as with every Corken product, a world-wide network of Corken trained distributors are ready to provide expertise and service.