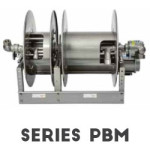 To handle 1″ through 1-1/2″ I.D. liquid hose and 1/2″ through 1″ I.D. vapor hose.
Standard hose reel is steel construction, painted graphite; Aluminum or stainless steel construction is available.
"SB" prefix denotes polished aluminum construction, offering both reduced wight and superior corrosion resistance compared to standard steel construction.
Gear-driven crank on vapor reel
#40 chain and sprocket drive powered by an electric hydraulic or compressed air motor liquid reel.
Pinion shaft brake standard.
Other locking devices may be specified.
Standard inlet 90 ball bearing swivel joint, 1-1/2″ female NPT threads.
manual rewind reel: 1″ female NPT 90 ball bearing swivel joint.
Liquid reel: flanged riser, 1″ female NPT threads.
Vapor reel: riser, 1″ female NPT threads.
Standard inlet, outlet riser, and hub assembly are steel.
Other sizes and/or threads can be furnished and most be specified.
rollers and roller mounting brackets are accessory items. Specify roller position.
Pressure to 350 psi (24 bar).
Temperatures from -40F to +350F / -40C to +177C.
Consult factory for other pressures and temperatures.
Chain guard available upon request, must be specified.